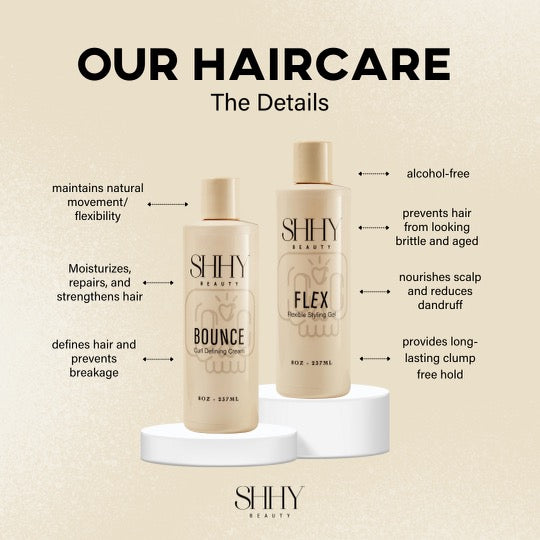 We have answers to your questions! Keep an eye out for our IG Q&A's if you have questions about our products.
We got you if you missed it. Here's a recap of our past Q&As.
Heads up: This is not professional or medical advice, always consult your licensed professional or physician regarding medical or health advice.
BOUNCE & FLEX
Q. What research helped you know what was good for curly hair?
A. YEAARS of trial and error, using different products and brands, homemade and salon strength treatments, meeting with different hair specialists and curl specific professionals, thousands of dollars in hair salons, finding my favorite ingredients and taking note of my hairs reactions to everything. BOUNCE and FLEX are just the start, something universal that anyone can pick from. I aspire to curate more problem & pattern specific products in the future.
Starting Shhy Beauty
Listing all my favorite ingredients
Q. I am caucasian with very fine curly hair. Will these products be too heavy for my hair?
A. With personal experience with damaged brittle hair due to bleaching I recommend not over-saturating your curls to avoid losing volume. Depending on your curl pattern your hair you can use a minimal amount of both Bounce and Flex; both products are very lightweight on the hair - or you can use one or the other to achieve the same activation in your curls depending on the style you are looking to achieve.
Q. Do any of your products work on 4C-type Hair?
A. Yes, my first question would be, what products currently work for you? I always see the best results with keeping 4-C hair hydrated with creams, balms, and oils. I recommend Bounce. Avocado oil is one of the top three ingredients in this product and one of the top moisturizers for hair and skin. Incorporate this with your current routine to get a hydrated and moisturized style.
Q. Does the FLEX gel dry crunchy?
A. FLEX is a vegan light holding gel, dependent on the other products you use in your hair gel can sometimes appear hard before completely drying. My
secret to making sure gel doesn't dry hard no matter the product in my hair is by diffusing my hair or air drying and once the style is set and fully dry I pick and fluff it out but to answer your question, FLEX does not dry hard and crunchy. Flex is actually short for Flexible. Our goal was to create a gel that provided natural flexibility and movement.
Q. Does FLEX slick down 4a/4b hair?
A. It's a styling gel with light-medium hold. Not too thick or heavy on the
hair. It's not going to be thick or strong enough to SLICK down any hairstyles. Only perfect for styling purposes to help isolate and accentuate those curls'
Q. Can you pair Bounce and Flex with a mousse?
A. Yes, pair them with a mouse or any other product you like. Our products can be used as a two-step routine or incorporated into your current routine. When I do my 1yr olds 3C hair I like to top her edges and her ends off with a mousse specifically designed for babies, it gives her styles a shine and hold that even a 1yr old can't ruin.
Q. Does FLEX gel work with other products? Sorry, I already have a curling cream that I love.
A. Yes!! Are you really a curly head if ur bathroom isn't a mini CVS? Fun fact:
our FLEX gel is VEGAN, it has a light/ medium hold, and my personal
favorite for thicker curl patterns/ textures to help bring that shine and curl flexibility!